Update: Congrats to our winner, Denise Matthews! 
We're so excited about this new study with Margaret Feinberg!
Fight Back With Joy is a 6-session Bible study that will help you embrace a life that's richer and fuller than you've ever known before—a life radiant with joy. Learn to practice joy, defiant joy. Sooner or later, we find ourselves on the battlefield of life and struggle to know how to respond. But God says, "Do not be afraid or discouraged because of this vast army. For the battle is not yours, but God's" (2 Chronicles 20:15). On that fateful day, King Jehoshaphat and his army marched forward rejoicing. Though we can choose from many weapons, God wants to empower us to fight back with joy.
Celebrate More. Regret Less. Stare Down Your Greatest Fears.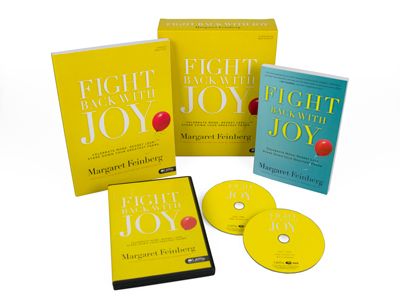 It's the perfect way to begin a new year! And since it's Friday, we're giving away a Fight Back With Joy Leader Kit! The Leader Kit includes
Member Book with leader helps and Scripture cards
2 DVDs which include:

6 session videos
message to leaders
promotional video

Fight Back With Joy book by Margaret Feinberg
Check out a sample of the study here.
Enter by commenting on this post with your name.
By entering today's giveaway, you acknowledge LifeWay Christian Resource's official promotion rules. Today's giveaway starts at the posting time of this blog and ends next Monday (01/12/2015) at 11:59 pm CST. You must be 18 to enter, and you may only enter once. The winner/s will be selected at random. For questions about the rules and regulations of this giveaway, please contact Larissa Arnault at One LifeWay Plaza, Nashville, TN 37234-140.