Update: Congratulations to our winners, Janet Alboszta, Harriet Renner, and Lesli Kohout!

It's Friday! This week we're giving away 3 copies of the Seven Realities for Experiencing God Member Book!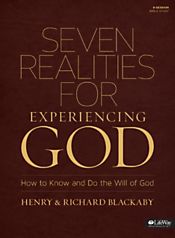 We're excited about this study from Henry and Richard Blackaby. Seven Realities for Experiencing God examines seven scriptural realities—those Moses experienced in Exodus 3—that teach believers how to develop an obedient love relationship with God. This eight-session study overviews the seven realities and then, session by session, explores truths like "God is always at work around you" to introduce a biblical pattern by which God reveals His will so that believers can join His activity in the world.
To enter, leave your name in the comments.
By entering today's giveaway, you acknowledge LifeWay Christian Resource's official promotion rules. Today's giveaway starts at the posting time of this blog and ends next Monday (01/19/2015) at 11:59 pm CST. You must be 18 to enter, and you may only enter once. The winner/s will be selected at random. For questions about the rules and regulations of this giveaway, please contact Larissa Arnault at One LifeWay Plaza, Nashville, TN 37234-140.