This is the first of a monthly feature about what we're reading. Each month, you'll hear from one of us what we're reading and a little bit about the book. Enjoy!
I'm reading Wherever the River Runs by Kelly Minter.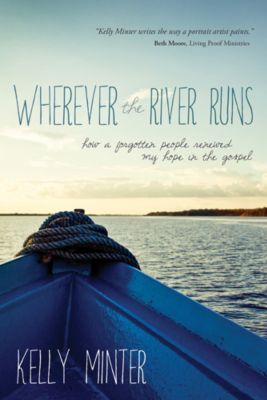 Kelly Minter is, of course, one of our authors. She is a writer, Bible teacher, and musician. She also partners with Justice and Mercy Amazon. She lives in Nashville, TN.
Wherever the River Runs is, to quote the subtitle, "how a forgotten people renewed my hope in the gospel." Kelly takes readers on her journeys down the Amazon River, painting pictures with words so we can see the jungle, the mighty river, and the people who live along its banks. Kelly's style and care in word choice lead to beautiful sentences showing, rather than telling, readers what it feels like to be in Brazil. She shares how her view of the gospel is widened and her faith increased by seeing the hope and perseverance of the people she encounters. It's a book about travel and faith, mission and lessons learned.
One of my favorite quotes is from early in the book. Kelly writes,
Because He follows this wildly unconventional atlas where His ways are not our ways, the way to adventure is sometimes through the gates of heartbreak and broken dreams. You can't always tell where you're going, but eventually you find Him to be what He has been all along: faithful.
Reading this book not only makes me want to take a trip down the Amazon, it also challenges me to look at what God is doing around me, right here in Nashville. How can I join in showing others that He is faithful? The little insights and lessons Kelly weaves into the greater story of what God is doing along the Amazon are challenging me in my faith and encouraging me to dig into Scripture and fall in love with Jesus and His church (all around the world) even more.
Fun Fact: I attempted to immerse myself in Amazon culture and read from my hammock (attached to a hammock stand in my backyard … not quite the same as draping across the bow of a boat, but it was the best I could do). I even took a picture, with visions of Instagram likes dancing in my head.
A few pages later? My hammock crashed to the ground due to a faulty S-hook. I'm sure this would not have happened on the Amazon.
Another fun fact: Kelly is in the Amazon right now. Check out pictures of her adventures by following JMI on Instagram: @justicemercyinternational
Have you read Wherever the River Runs? What's something you learned from it? 
 Elizabeth Hyndman is a Content and Production Editor for LifeWay Women short term studies. Read more from Elizabeth at edhyndman.com.