I'm reading Fear and Faith: Finding the Peace Your Heart Craves by Trillia J. Newbell. My sweet daughter, Kali, gave me the book for Mother's Day. A great gift for the mom who loves to read.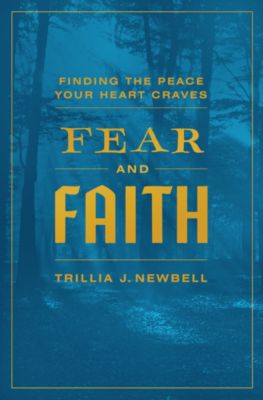 And a great gift because the truth is I've struggled with fear most of my life. If you name the fear I've probably experienced it. Everything from spiders, mice, and sharks to fearing people, God, and the unknown.
Trillia writes on issues of faith, family, and diversity every day. In Fear and Faith, she speaks from her heart as she shares about her own real-life stories and struggles with fear. Most of us can identify fears in our own lives that paralyze and hinder our faith. Trillia gracefully pushes the reader to dig deeper to expose the roots of our fears—to face the pride, unbelief, and covetousness that can grow without the wisdom and truth of God's Word. Trillia reminds us that we can trust God with everything in life. She explores common fears that many women face and in conversational style points the reader back to God's power and the power of His Word.
A few quotes that challenged me and stepped on my toes related to my own fears in the past and/or present:
Fear of Man
"Ultimately the problem with my people pleasing was that I had come to believe that the opinions of others about me were far greater than God's. Preoccupation with what others think is pride. For you and me to stop worrying about others, we have to start thinking about Him."
Fear of the Future
"Every page in God's Word shouts of the faithfulness of God. Each story leads to Jesus and to the redemption of the world. And if we look, we can see God's faithfulness to us now."
Fear of Not Measuring Up
"If you fear you won't measure up because there's just so much that needs to be done and you simply can't do it all, leaving you feeling guilty and depleted, some of the best news you and I can hear is that we actually cannot do it all … Jesus reminds me that I could never do enough or be enough but that I am enough because of Him—because He is enough … You do not measure up, but He does."
I did experience renewed hope and peace as I read the Scripture, stories, and truths found in Fear and Faith. Sometimes it is good to remember when a fierce storm of fear hits that He still commands the wind and the waves (Luke 8:22-25). And that I can trust Him.
"But I have trusted in your steadfast love; my heart shall rejoice in your salvation. I will sing to the Lord, because He has dealt bountifully with me" (Psalm 13:5-6)
How do you trust in God's steadfast love and face your fears? What's your experience when your fear and faith collide?
Michelle Hicks is an Editorial Project Leader on the Adult Ministry Publishing team at Lifeway. She gives leadership to the team responsible for producing Bible study resources for women.