Each month, you'll hear from one of us on what we're reading and a little bit about the book. Enjoy!
The Lucky Few was a challenging and heart-warming read. It is the story of Heather and Josh Avis's life together – their journey to parenthood and God's refining rhythms along the way.
When the Avis family left more traditional avenues for parenthood behind in favor of adoption – bringing three children into their home, two of who have Down syndrome – God used the tough days of parenthood to expand their household and their hearts.  Heather chronicles the way that her journey with her children (Macyn, Truly, and August) has escorted her into deeper relationship with God and strengthened her faith as she has seen Him provide and protect time and time again.
This provision has not come without its share of surprises. Their initial hopes for adoption included a "typical" child, a newborn in good health. When considering the path of adoption (even adopting a child with possibly critical health) Heather felt that was God prompting her to take, she says, "It was difficult to believe that God's best for me in this season of my life was something so downright foolish in the eyes of the world. That his best may be the very thing I wanted with all my heart to avoid. That his best is often what the world tries to convince us is our worst."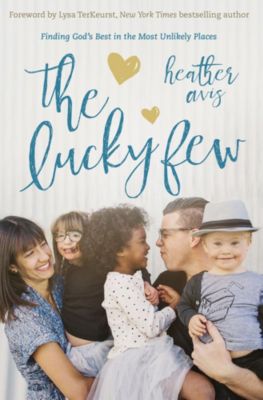 In her wrestling with tough decisions, whether to say yes to adoption and adoption of a child who might have significant health concerns, Heather was able to trace the Lord's guiding hand. She says, "God was trying to open our eyes to the fact that a yes to him is the only yes we should ever be saying."
She points to the way that adoptive parenting uniquely highlights God's love for us: "Adoptive parents have to embrace the intermingling of tragedy and joy. For me, the complexity is a constant reminder of a Savior who had to die so we might experience life. So many times, I've wished I could just sit in the joy of it all! Then I would remember that I can only fully know the joy when I accept the heartbreak as well."
And, the way that God's purposes often don't make sense to our human minds: "I find it interesting and a tad bit obnoxious that life's necessary bitter things can offer so much needed goodness. I don't know about you, but I find myself waking up most mornings hoping for an easy day. A day free . . . of any bitterness trying to find its way to my mouth. At the time, God was teaching me that sometimes those are the very things needed to keep us going, to keep us breathing, to keep us alive."
We see Heather and Josh grow as parents, from tentative steps, hopes, and dreams to moments of dependence and joy as they draw strength from God, Heather says "I knew I could not take one step as a parent without first taking the hand of our heavenly Father."
The Avises work through pain and God allows them to glimpse some of the grace and glory that He is planting in their lives through difficult circumstances. According to Heather, "Just because circumstances are hard, it doesn't mean they're bad."
Reflecting upon their adoption and parenthood journey, Heather muses, "Eight years ago, God shined a light into my wilderness, and Josh and I stepped off our path of easy, normal, and nice to go after it. He took our muddied clothes, tired souls, and broken hearts, and from our humble offerings created a crazy masterpiece. He took our meager yes and used it to stir up hearts and change lives.
I think about how lucky all of us are when we finally allow God to gently push us toward the places where he's waiting to be discovered. Not a whole lot of us choose to leave the path of easy, normal, and nice, the one covered in rose petals and lined with solar-powered lamps. But, for those of us who do, we really and truly are the lucky few."
The Lucky Few is certainly a battle cry for the sanctity of all life and the worth of every child as an Image Bearer of God. But, it also reminds us of the fulfilling joys and journeys that come when we obey God and relinquish the illusion of control to which we often desperately cling.
As Heather says, "Isn't that just like our God – to take the very things in life we should be terrified of and to cover them with his goodness and beauty?" We have such a good Father. Let's join Him on the adventures He has planned for us as He writes His great story and allows us to be a part.
Sarah Doss is a Production Editor with Lifeway. She loves a quirky sitcom, baking as therapy, and travel (international or otherwise). As a recovering Lisa Frank enthusiast, she maintains a healthy affinity for school supplies and all things letterpress. Keep up with her on Twitter (she loves Twitter friends) at @sarahdossy.