"Guard your heart" is a common piece of advice in Christian circles. It comes from the Book of Proverbs: "Guard your heart above all else, for it is the source of life" (Prov. 4:23).
But what does it mean to guard your heart? And how do you do it? Paul says, "Don't worry about anything, but in everything, through prayer and petition with thanksgiving, present your requests to God. And the peace of God, which surpasses all understanding, will guard your hearts and minds in Christ Jesus" (Phil. 4:6-7). This has particular application for marriage and singleness. Paul tells us that prayer is the pathway to guarding our hearts and minds with the peace of God.
Guarding your heart begins with prayer to God and overflows into communication with the other person. In other words, the key to guarding your heart is to talk to God about the relationship before you talk to the other person about the relationship. This will help keep things in proper perspective.
There is real danger in failing to do this. First, if you fail to guard your heart, you may move too fast in the relationship, becoming too vulnerable too quickly. Second, you may fail to seek God's desires for the relationship by depending on your own understanding and priorities (Prov. 3:5-6).
Why do you guard your heart? We learn from the Old Testament that our hearts are vulnerable (Jer. 17:9) and easily drawn into sin (Gen. 6:5). While we often view the heart as the seat of our emotions and our will, yet Israel understood the heart to be the center of the whole person—not just our emotions and will but also of wisdom and perspective.
The heart refers to who you are as a person and the Bible is teaching you to guard yourself. Take care to live and walk before God in ways that are pleasing to Him (Ps. 19:14). Look back at Proverbs 4:23. It instructs to you to "guard the heart" (who you are) because "it is the source of life" (what you do flows from it). When it comes to dating, it is essential for you to guard your heart because what you do in a dating relationship flows from who you are in a dating relationship. We often treat the idea of guarding your heart as if it merely involves protecting yourself from too much intimacy with someone of the opposite sex. Certainly this is necessary, but guarding your heart is so much more than this! It's a call to protect your character in all that you do.
Help your children pursue the right goals. As they begin to date, teach them to live with integrity and pursue Christlike holiness. Teach them to glorify God with their bodies and emotions. And teach them to honor their future spouse in the way that they conduct themselves.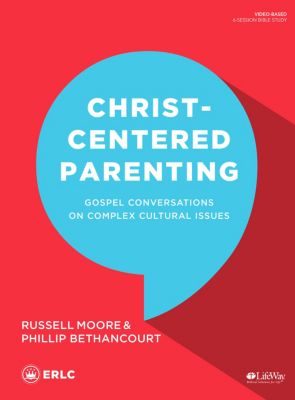 The above is adapted from Christ-Centered Parenting: Gospel Conversations on Complex Cultural Issues by Russell Moore and Phillip Bethancourt. This study is uniquely structured to help parents, grandparents, and mentors navigate the tough topics of today with their children. Whether your kids are preschoolers, high schoolers, or young adults, find ways to tackle cultural issues with a gospel lens. Click here to order your copy or see a free sample today. You can also pick up a copy at your local Lifeway Store!