Each month, you'll hear from one of us on what we're reading and a little bit about the book. Enjoy!
Today kicks off the first week of November, and stores everywhere are full of Christmas decor and holiday spirit. Some of us refuse to begin the Christmas cheer until the month of December, while others already have their homes decorated and Christmas songs playing on repeat.
One of the things that has me filling out my planner with holiday plans earlier than normal this year is Becky Kiser's new book, Sacred Holidays. This book is an amazing resource for thinking through ways to make our holidays more sacred. Becky uses the phrase "less chaos, more Jesus" throughout the book—and who of us does not want that amidst one of the busiest times of the year?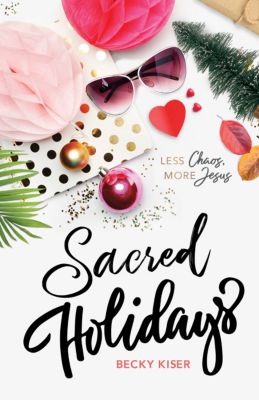 So what does a sacred holiday look like? Becky says, "First, holy. I want to help your holidays become holy or dedicated to Christ (and others)." She continues, "Second, set apart. While we certainly want to make the holidays more about Jesus, we don't have to believe the lie that spiritual means impractical…The "set apart" portion of the holiday chapters are simply there to help you be more intentional about your holiday habits in really practical ways." This is one of my favorite things about the book: that Becky lays out really practical ways to celebrate the holidays in meaningful ways that point to Christ.
My second favorite thing about this read? It's designed to be a resource that you can reference throughout the year for many holidays—not just for Christmas. The book is laid out in three parts:
An introduction section that discusses how we make our holidays both more holy and set apart
A holidays section with practical ideas for all sorts of holidays (New Year's Day, Thanksgiving, birthdays, summer, and more)
A common struggles section discussing things like holiday drama, budget, grief, and more
Part one certainly sets the stage for the rest of the book. For those of you like me that love diving right into all the fun, practical ideas, Becky encourages us to take the time to establish the foundation and perspective we'll need to really carry out all of the new, practical insights. It was really challenging (but encouraging) to hear Becky's reminder that "the very best thing you can do is 'baby step' this process." What an amazing reminder that the pressure's off and that we can slowly, but surely, transform our holidays.
Once you finish part one, you can jump into whatever holiday is coming up, or you can read the book from beginning to end. Becky has created flexibility, which I love!
To give you a taste of the holidays section, one of the activities Becky suggests for Thanksgiving is a 30-day gratitude challenge. Becky includes 30 days of prayer prompts to help us be more intentional as we practice gratitude. A few of these include gratitude for our home, for something we're learning, and for a mentor or teacher. For those of us who've always wanted to try a gratitude journal and haven't been sure where to start, this is the perfect list to kick things off.
One of my favorite quotes that, although about Christmas, sums up the heart of this book so well is this:
Christmas activities can be intentionally spiritual, or they can not be, depending on the moment. After all, Jesus sometimes gathered in spaces with people He cared for and simply broke bread and talked, and other times He 'went there' on a spiritual level. Oftentimes we try to over-spiritualize the holidays in an attempt to bring greater glory to God. While these intentions aren't bad at all, we must keep an eye on our tendency to religiously script certain moments in ways even Jesus didn't. In some sacred moments, we love God and others by verbally connecting an activity to the Bible or the Lord. In other sacred moments, we love God and others by simply enjoying an activity. Jesus' days were filled with both types of sacred moments! At the end of the day, only the Lord's leading can decide what's best for each activity you do."
After reading this book, not only do I have some amazing ideas I want to try for the upcoming holidays, but I'm reminded to not allow the busyness of the season to cloud my perspective. Becky challenges our culture's view of the holidays but in a way that feels like a friend you're meeting for coffee. Her genuine desire to come alongside you, her sensitivity to the many challenges the holidays can bring, and her mindset that our holidays will take time to transform make this a read I'll keep coming back to in the months to come!
If you'd like to grab a copy of Sacred Holidays and start your holiday planning, you can do that here or at your local LifeWay store!
Jessica Yentzer is a marketing strategist on LifeWay's Adult Ministry team. Well-written memoirs, dark chocolate, a good running trail, and the perfect fall day are just a few of the things that put a smile on her face. When she's not planning editorial calendars or writing, she loves hiking and exploring the outdoors with her husband, Grant.